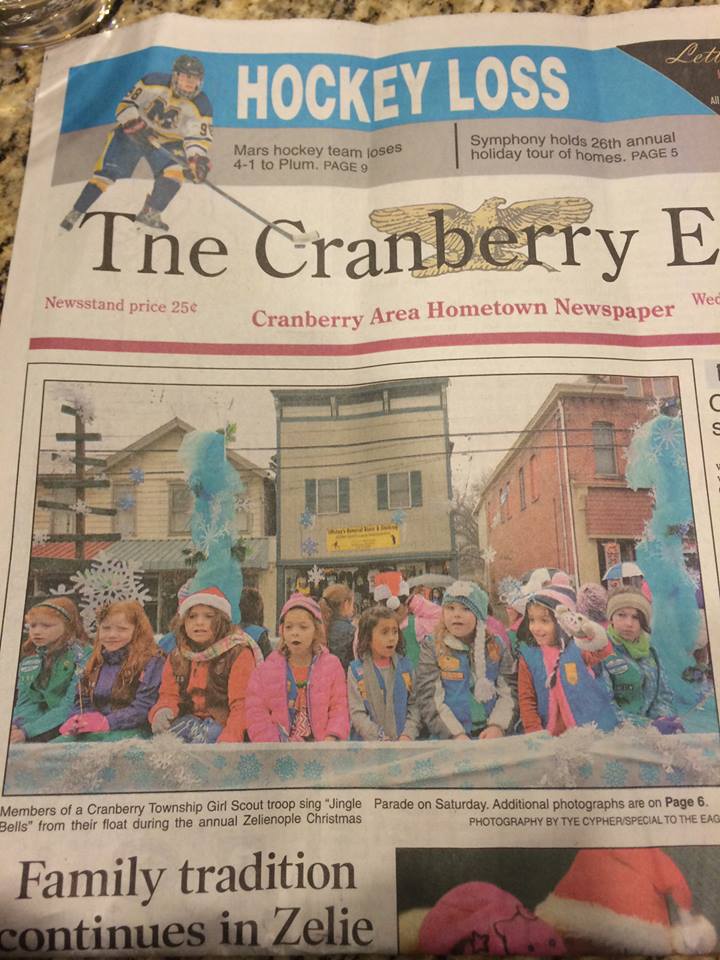 Wow! What an exciting December our Girls had!
We kicked off the holiday season with a multi-troop participation in the Zelienople Holiday Parade on the Saturday after Thanksgiving. Our girls braved the rainy weather and spread holiday cheer to everyone gathered. Here are some more AWESOME things our troops did for others during the holiday season!
Troop 20074 made over 20 knitted scarves and headwraps for donation to homeless in Pittsburgh through Light of Life ministries.
Troop 20545 submitted a gingerbread house for the PPG Gingerbread House display in downtown Pittsburgh and won 1st place in their category! Way to go girls!  They also visited with Punxsatawney Phil through a program presented by the Cranberry Library.
Troop 24126 helped seniors at Rolling Road Apartments decorate for the holidays.
Cadette troop 24131 was VERY busy! They made cards for the local senior center, planted daffodil bulbs for a senior citizen, and donated 501 stuffed animals to "Christmas on Troy Hill" They are still not finished! They are still collecting through the end of January blankets and towels for donation to the Animal Rescue League!
Senior troop 25141 helped Brownies in Troop 26686 make their gingerbread house for the gingerbread house display.
Brownie troop 26524 placed third in their age group for their gingerbread house in the PPG Gingerbread House Display in downtown Pittsburgh! They also packed over 100 bags of food for local kids through the Full Table Project. We are so proud of our girls for caring about the other kids that they go to school with!
Junior troop 26656 put together cookie trays for our local police, fire personnel, and the staff at Hope Lutheran Church. Thanks for reaching out to our community girls!